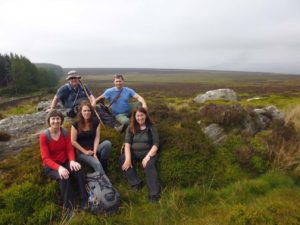 On Saturday 4th June the Friends of Ilkley Moor led one of their heritage walks on Ilkley Moor, 'Across Crawshaw Moss and Neolithic Sites'.
This was a 4-mile walk starting on the lower slopes and gradually climbing to Crawshaw Moss passing a well marked Cup & Ring Stone rock on the way.
A strenuous walk of 3 hours, with uphill climbing, the walk uses rough moorland tracks and crosses boggy terrain. The group spent time taking in the whole landscape views from various resting points along the way; as well as discovering the archaeology of the moor and the heathland and peat land habitats. People learned about the plants and wildlife which could be seen on the day and how Ilkley Moor is managed.
Everyone had a great time and said they looked forward to attending more events from this year's events and learning programme so they can discover more of Ilkley Moors amazing heritage.
The events programme and heritage walks can be downloaded from the FOIM website www.ilkleymoor.org or collected from Ilkley Information Centre and shops in the Town.
From Tracy Gray FOIM Project Officer.
For further information contact Tracy Gray FOIM Project Officer on 07780535860