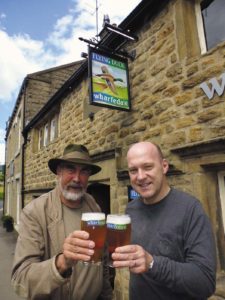 Following significant fire damage to Ilkley Moor in May, Wharfedale Brewery, based at the back of the Flying Duck Brewpub in the town, has come to the aid of a local conservation group by producing a special beer aimed at raising funds to help protect, enhance and restore the popular tourist spot.
The most recent blaze started on the slopes of the moor, not far from the visitor attraction White Wells and the new brew, described as red and zesty with a grapefruit tingle, weighing in at 4.5% ABV is to be named after the well known spa bath building.
"White Wells" is set to hit the bar of the Flying Duck and other local hostelries this weekend with the brewery donating fifteen pence for every pint sold to the Friends of Ilkley Moor (FoIM).
Robin Oldfield, one of the directors at Wharfedale Brewery said; "the natural landscape in Wharfedale is an inspiration to us at the brewery and we are very proud of our Ilkley heritage. We are delighted to produce a beer aimed at supporting this extremely worthwhile organisation and hope we can join the public in raising some much needed funds for them."
Owen Wells, Chair of FOIM commented, " We are absolutely thrilled to have an iconic beer named after one of our most iconic landmarks. We are extremely grateful to Wharfedale Brewery for their generosity and we hope our members will be asking for a pint of White Wells whenever they see it in a local pub."
The Friends of Ilkley Moor (FoIM), founded in 2008, is an independent not for profit voluntary organisation which was set up to preserve and improve understanding and awareness of Ilkley Moor for the benefit of the environment, all those who use Ilkley Moor and those who reside in the surrounding area.
Above photo is of Owen Wells (left) chair of The Friends of Ilkley Moor enjoying a pint with Robin Oldfield of Wharfedale Brewery to launch the brewery's new beer "White Wells". Photo by Barry Wilkinson.